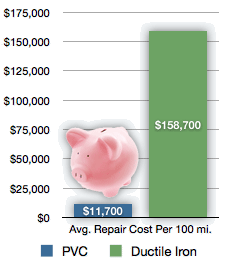 While certain pipe manufacturers continue to explore "solutions" to corrosion – because their materials are affected by it – PVC remains indisputably resistant to it.
PVC pipe is a proven and extremely durable alternative to traditional corrosion-prone pipe materials. Recognized by state, national and international agencies and standards organizations, it has been a benchmark since it was introduced in the U.S. sewer, water and drainage markets in the 1950s.
Over two million miles of PVC water and sewer pipe are currently in service. A review by Engineering News Record in 1999 found PVC for water and sewer pipe to be one of the top twenty engineering advancements in more than a century.
An American Water Works Association Research Foundation study confirms the life expectancy of PVC pipe to be in excess of 110 years.
PVC's cost-effectiveness and sustainability are important qualities that city and local lawmakers should be considering–and taxpayers should be demanding.