Tracking The Costs Of The Corrosion Epidemic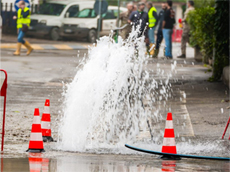 The burden of old technology materials is not limited to the cost of repairing and replacing failed pipelines. It includes the cost of losing treated water from leaking systems. All told, leaking pipes lose some 2.6 trillion gallons of drinking water every year, or 17% of all water pumped in the United States. This represents $4.1 billion in wasted electricity annually. In many distribution systems, the amount of water lost or unaccounted for can be as high as 40 to 50 percent. Ninety percent of lost water costs are corrosion-related.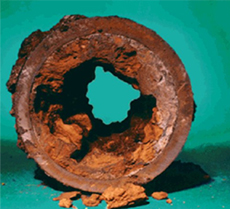 Would you drink water from this pipe?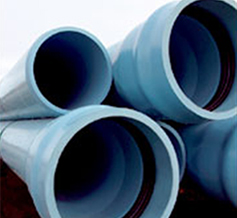 PVC pipe's smooth surface equals clean and sustainable water delivery.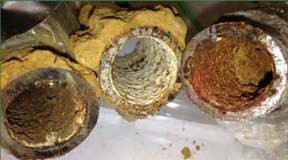 Municipalities with corrosion issues could be exposing their customers to potential public health and safety issues.
Corrosion, leaks and breaks in old-technology pipe materials are degrading our water delivery and sewage treatment systems, which are critical to public health and the environment.
Every day, 850 water main breaks occur in North America at a total annual repair cost of over $3 billion. This doesn't include the high costs of emergency equipment, depleted water supply, traffic disruptions, and lost work time. Experts note that corrosion is the leading cause of this water main break epidemic.
Corrosion is a significant drag on the economy, costing U.S. drinking water and wastewater systems over $50.7 billion annually, or more than $1 trillion dollars over the next twenty years. Not only is this cost calculated in terms of water main break repair, but also in terms of lost water, replacement of corroded pipes and implementation of corrosion-mitigation measures, which are ineffective since they only delay an unavoidable outcome.
Today's corrosion crisis is due to the materials used in America's underground pipe networks over the last 100 years. At first, cast iron was used, with ductile iron gradually replacing it. Both now suffer from the ravages of corrosion.
The American Society of Civil Engineers has consistently given poor marks to the nation's public drinking and wastewater systems, saying hundreds of billions must be spent over the next two decades for upgrades and replacements.
Taxpayers are fed up. Local governments are scrambling for solutions.
A study by the National Research Council (NRC) of Canada reported that the average break rate per 100 miles of pipe for ductile iron is 15.87. PVC exhibited only 1.17 breaks per 100 miles of pipe. The NRC report shows that ductile iron pipe breaks 13.57 times more than PVC pipe. This difference in break rates results in significant repair cost differences for PVC and ductile iron.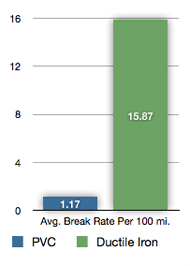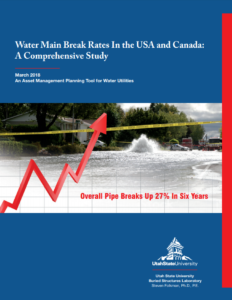 Water Main Break Rates in the USA and Canada
Utah State University, Buried Structures Laboratory
Major Findings:
PVC pipe has the lowest overall failure rate when compared to cast iron, ductile iron, steel and asbestos cement pipes;
Corrosion is a major cause of water main breaks;
Newer, thinner-walled ductile iron pipe is experiencing failures more rapidly than older cast iron pipes.
According to Utah State University, from 2012 to 2018:
In North America, water main breaks have increased by 27%
Asbestos cement pipe breaks have increased by 46%
Cast iron pipe breaks have increased by 43%
Ductile iron (DI) pipe failure rates have increased by 13%
PVC pipe breaks have decreased by 10%
Water Pipe Break Rates, 2012 -2018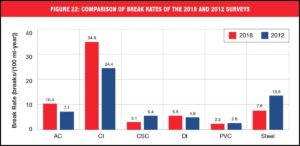 Click to enlarge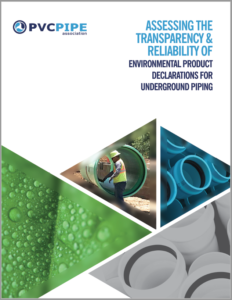 Assessing the Transparency and Reliability of Environmental Product Declarations for Underground Piping
Find out how to objectively evaluate sustainability and environmental claims for underground infrastructure. Click here for technical paper.